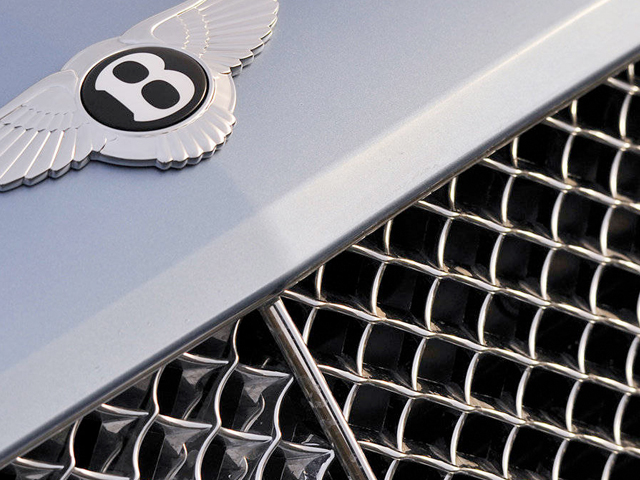 We Are Certified Collision Specialists
With the growing complexity of luxury vehicles, European manufacturers have established a network of certified collision repair centers. These certified collision repair shops possess specialized tools, exclusive training and access to parts required to properly repair and restore your vehicle. As an added benefit to you, certified shops undergo consistent auditing by manufacturers to ensure that the work completed is up to par with their high caliber standards. This means, that when your automobile is returned to you, it has been restored to the standards specified by your luxury vehicle maker.
At Cosmos, we pride ourselves on our independent status and our ability to restore your automobile back to the exceptional standards your luxury vehicle manufacturer requires. Using only genuine OEM parts, down to the nuts, bolts and adhesives of your brand of vehicle, our highly qualified and experienced technicians perform high end work using manufacturer specific specialty equipment.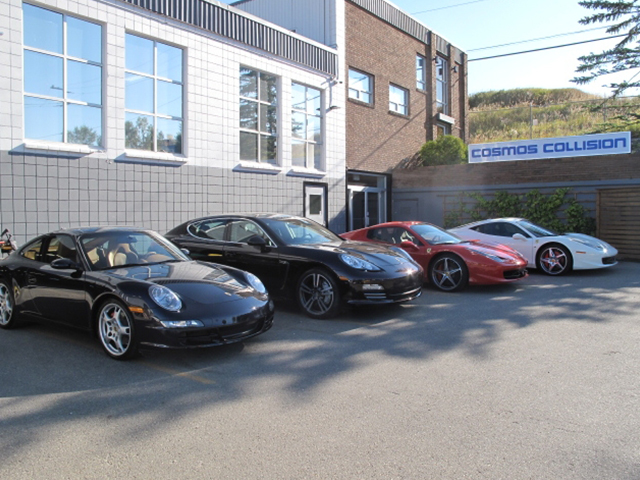 Calgary's Preferred Luxury Autobody Shop
Cosmos is proud to be among the preferred collision repair shops for Bentley, Porsche, Land Rover, Audi, Jaguar and Mercedes-Benz in Calgary.
Because we are an independent collision centre, we are able to tend to each vehicle with exacting attention to detail, taking the time to ensure that the job is done correctly and that no corners are cut when you drive away.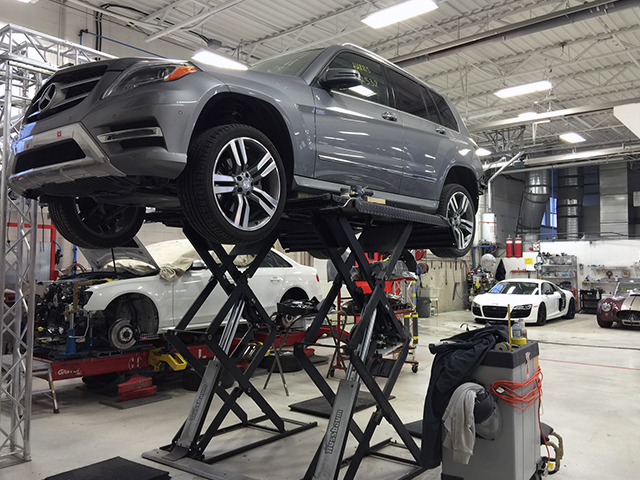 Independent Collision Repairs vs. Insurance Collision Repairs
As financial institutions, insurance companies protect the downside risks of payouts by negotiating rates with vendors on the repair side to minimize their cash outlay. Companies that meet the minimum quality standards set competitive rates to become "approved" providers. Hence, insurance companies will strongly recommend using one of their "approved" repair shops.
From the repair shop side, this puts immense pressure to keep down costs and make decisions that favor meeting the repair "budget" over meeting the most road-worthy quality repair standards. Whether this manifests in cutting costs by re-using bolts or repairing rather than replacing body parts, this not only reduces the value of your vehicle but also poses a safety risk to your luxury vehicle's performance.
You have the right to choose where your vehicle is serviced and repaired. You are not required to use an insurance preferred shop and it is worthy to note that the body shop itself guarantees the work, not your insurance company.
Precision in adherence to OEM directives will become even more vital in the future as materials continue to advance — and shops who can't or won't meet that challenge could face serious penalties in reputation and liability.

One of the very crucial adjustments some shops need to make in their approach to vehicle repair is what a job well done actually means. With the precise, interconnected design of modern vehicle safety elements OEM engineers have designed, something that looks "good as new" might not crash safe as new.

All of this really should drive home the analogy that collision repairs is becoming much more like surgery — and like surgery, requiring greater levels of study and specialization.

Trust Cosmos Collision to service and repair your luxury vehicle to the standards demanded by your vehicle's manufacturer. You get a team of professionals who appreciate and understand your type of vehicle and the sort of person who owns such a work of art.